What's this about?
You've got to love Ireland - if you've ever been to the Emerald isle you'll know what we mean and agree: Nowhere else offers such a welcoming, friendly crowd of people, who'll greet you in the friendliest way, no matter if you meet them in the line-up, at the beach or in the pub after your session. The nature and overall scenery is sheer breathtaking and last but not least: These incredible conditions on the water, the waves, the power..! Everyone who hasn't been: Check out the video above to get an idea of what to expect.
After years of trips to Ireland it was last fall that everything finaly just fell together: We were able to offer a guided tour and an intensive wave coaching for kiting in waves held by Ozone teamrider Marc Ramseier at the westcoast of Ireland. And as customers, coach and organizers enjoyed the trip alike we decided to have another go at it in spring 2020 - this time in English language.
Join us from 3rd to 10th of April 2020 for an intensive wave coaching at one of the northern hemispheres most impressive wavespots.
You'll have a very intensive journey of six days waveriding coaching. The coaching implements live coaching on the water with instant feedback, theory sessions and daily video analysis to help you to focusing on the small and big mistakes you're doing - as well as your progression.
We chose the legendary Brandon Bay on the westcoast of Ireland for its 13km long, crescent shaped beach which allows great conditions for the prevailing westerly winds. Here we will accomodate all of us in a big house right by the beach, overlooking all of the bay.
While conditons and spots in Ireland are amazing - they are also fickle. Ireland has massive tides and it is not rare that a spot that used to work great a year ago isn't working at all a year later. To be at the right place at the right time we're happy to be able to rely on a crew of locals who know every part of the island and leave no wave unridden:
Who can participate? The level of wavekiting required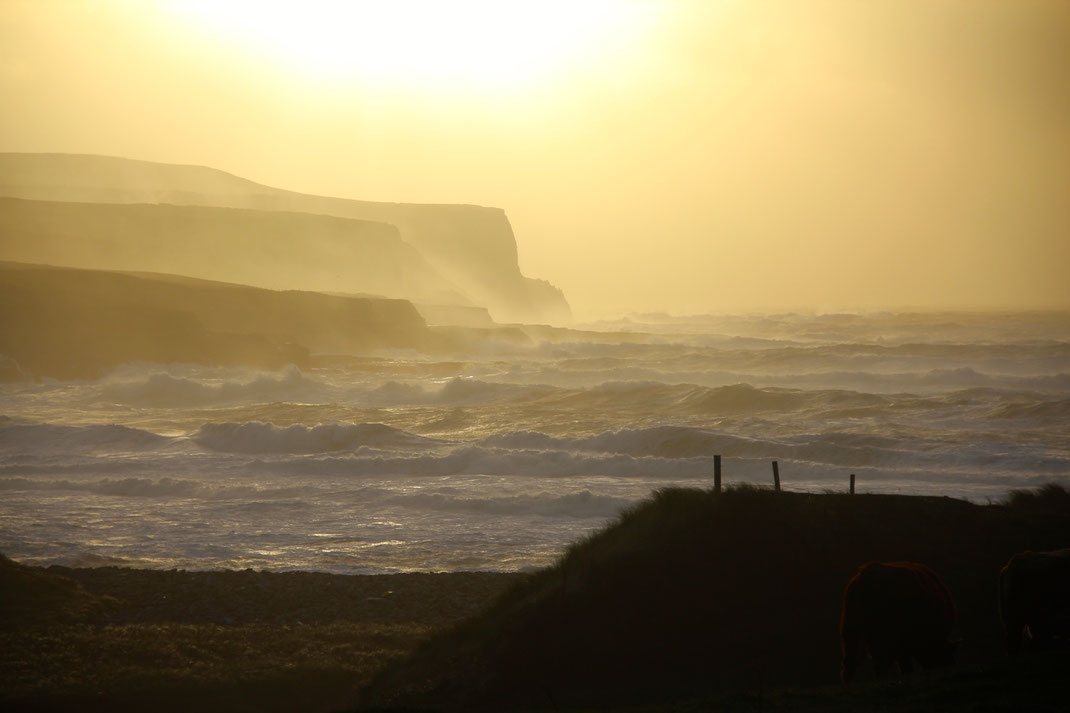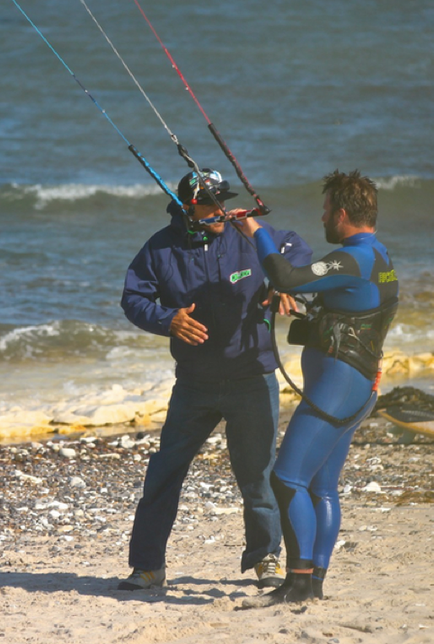 Are you an experienced kiter in waves? You're keen to progress and are hoping for some support and a challenge? You are not afraid of honest feedback, intensive exchange of knowledge and you want to hear about the small tricks and tweaks which you should work on to progress your waveriding? The idea of intensive personal coaching right on the spot appeal to you as much as daily video coaching session? Well, then this coaching is for you!
This intensive six day wave coaching is solely layed out to suit  riders who already have solid expericenes with kite and surfboard in waves and who have the aim to focus on their weak spots by the help of video coaching and an expert rider. We limited the group to ten participants to ensure we have a lot of time for individual support.
Your personal coach in the waves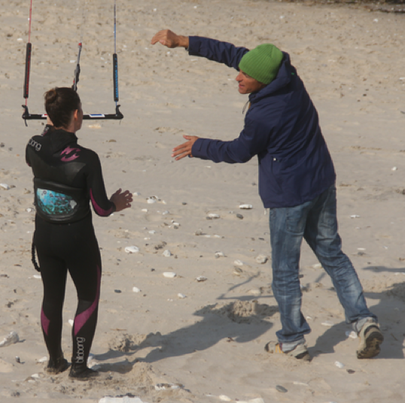 Ozone teamrider Marc Ramseier started to kitesurf in 1998, turned professional two years later and has ever since dedicated his life to Kitesurfing. After numerous years on the freestyle tour, Marc has since then been devoting his focus on riding waves and to push that side of the sport.
Originally from Switzerland, Marc has been spending most of his time abroad getting familiar with surf breaks all around the world.
Marc also brings in extensive experience from the instructing and coaching side and will make sure that you are going to understand how you need to improve your wave riding skills when attending his clinics.
Marc: "The reason i came up with the format of the Wave Clinics was to establish a way that would make it as easy and as quick as possible for everybody to learn how to ride waves - in my opinion the most rewarding, but also the most complex discipline you can do with a kite.
The idea was not to just gather at a wave spot and give a few random tips, but i wanted to create a way to pass on the fundamentals and build up a know-how that will speed up your progress so much more than by trial and error, not speaking of the increased safety and reduced risks involved.
Usually it takes years to master and get better at wave riding because there is a lot of experience involved. I cannot replace the experience, but i can make sure you know what to do and how to adapt to certain conditions so that you can learn much quicker and raise the quality of your experiences fast. Would be great to be able to welcome you at any of the future clinics.!"
Our location - the Brandon Bay at the westcoast of Ireland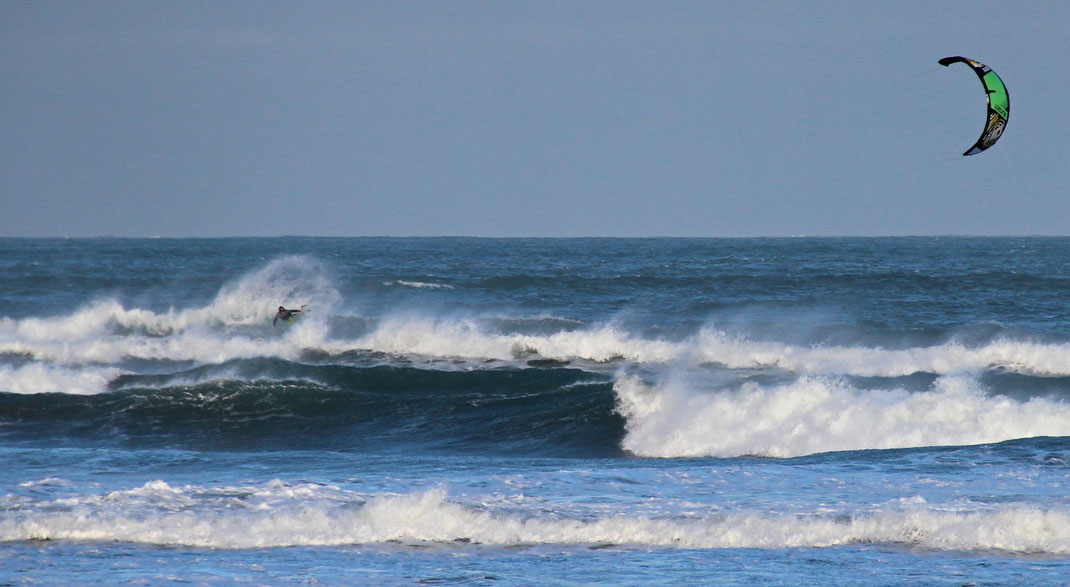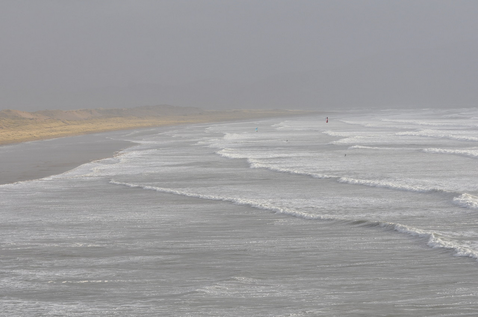 Ireland is pure nature. 4,5 million inhabitants, of which more than a quarter are living in the three big cities -there sure remains a lot of uninhabited space near the coasts. It's pure, it gives you space to breathe, it's idyllic. And these sensational kitesurfing and surf conditions only add to that.
Due to it's exposed location, Ireland is prone to profit of nearly every low pressure system brewing up over the Atlantic ocean, bringing wind and waves to the island. This makes it a fairly reliable destination for surfers and kiters in the winter and spring months. The gulfstream on the other hand ensures water temperatures in the double digits - even in November/December - but also in March..
Considering that light, waves and scenery will more than likely form an amazing backdrop: All pictures and videos of you which will be captured on a daily basis will be yours to keep after the event.
The gear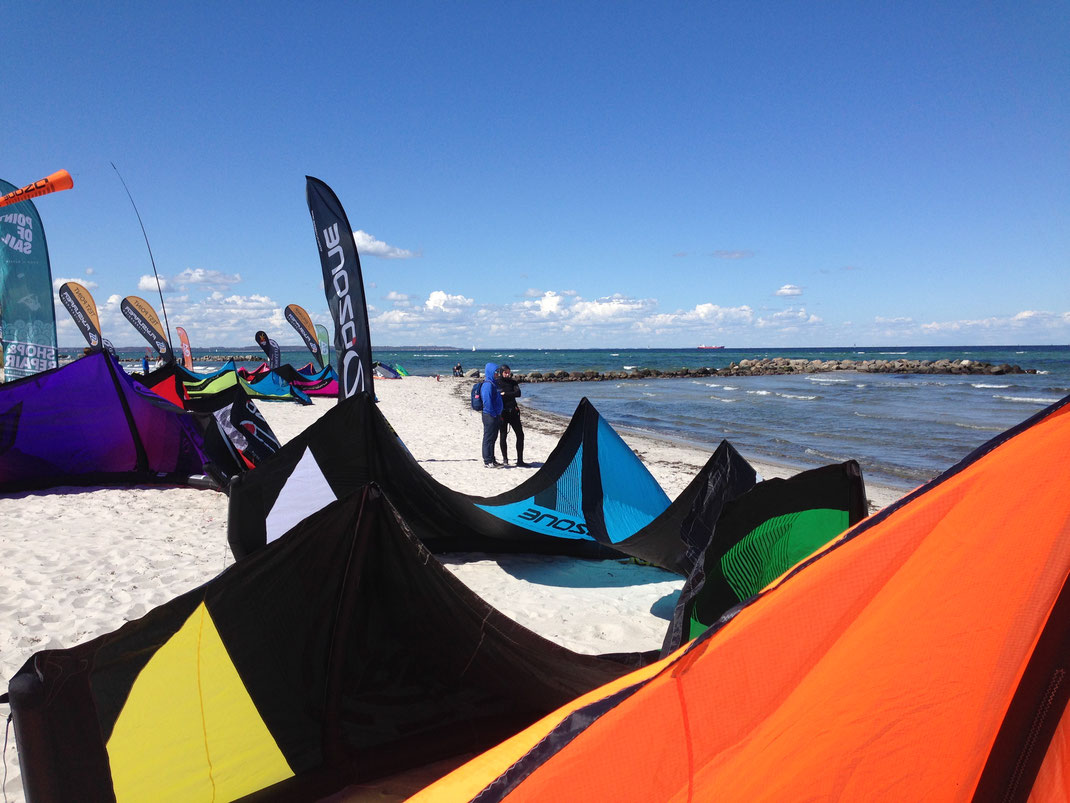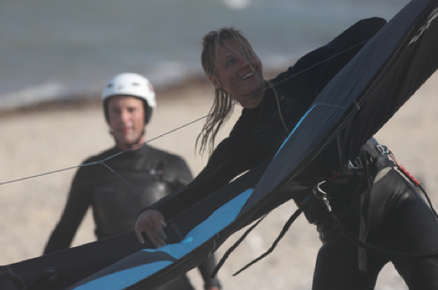 While we ask you to bring your own gear and mainly use it throughout the event, we are still happy to provide the latest wavekite model of Ozone, the REO V4 for demo and trial.
The REO is designed especially for kiting in waves. Since its release in 2012 it has developed towards an icon status and has made many a friend among kitesurfers. But just have a go with it yourself. The complete range of eight sizes between 4 and 12 sq m is available for you to test.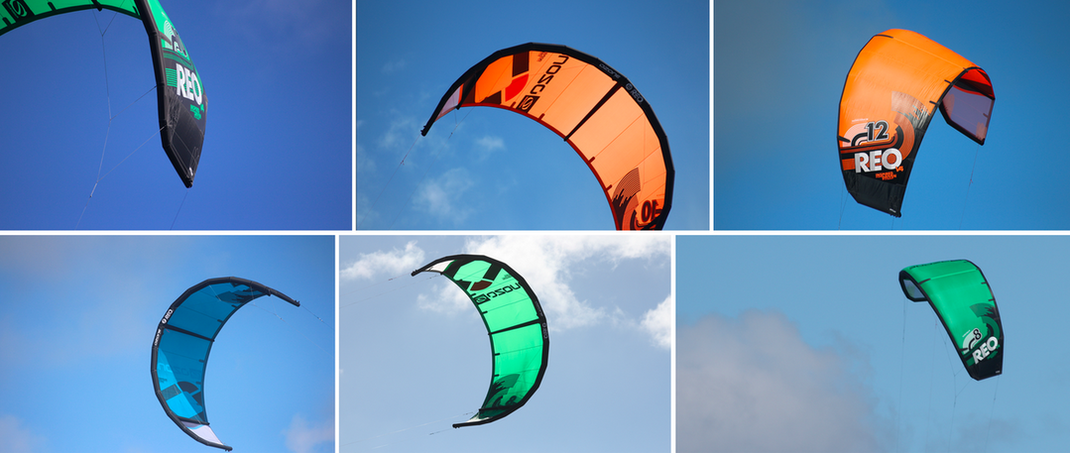 The weather - what do I wear, what do I bring?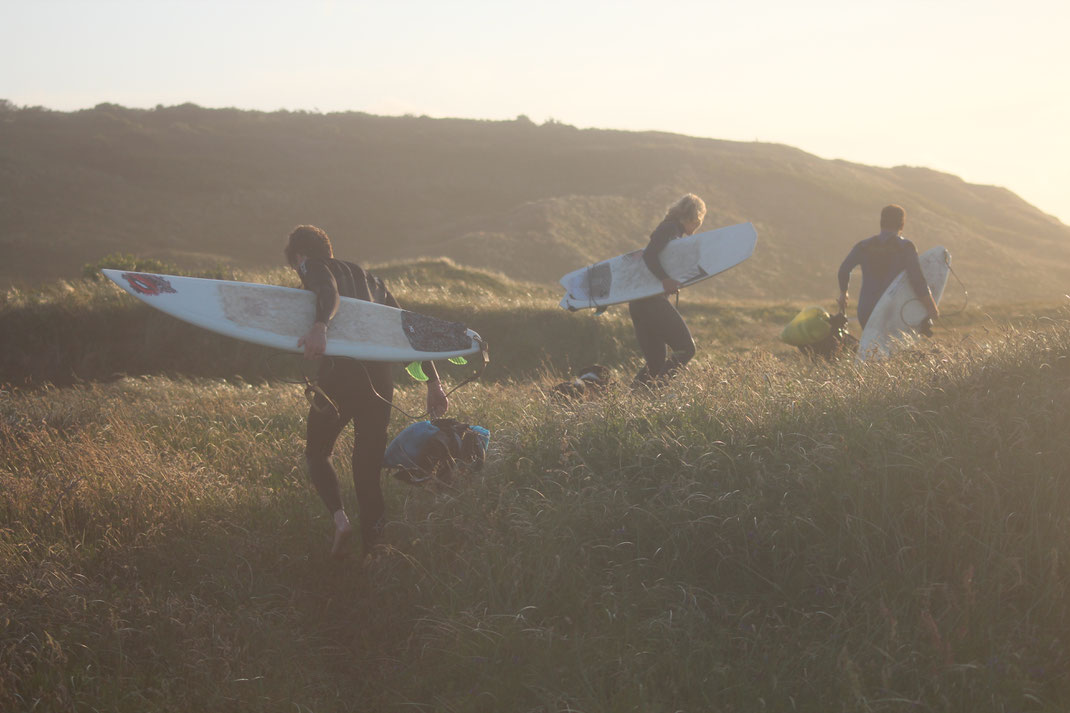 Talking about the weather.. Well, there is a chance it might rain the odd time. But without rain there would neither be these amazing clouds in the sky, nor the famous "40 shades of green" or these happy sheep. And generally the showers at the westcoast leave as quickly as they come. The weather is extremly changeable. Lashing rain sideways followed by blue, blue skies and sunshine - everything's possible in Ireland.
We're talking about weather, so no promises can be given. BUT. Throughout the last few years March has been a little gem of a month. It was sunny, windy and temps were in the mid teens. And we were blessed with a lot of swell too, so it was actually fairly ideal for windsports. In March we have fairly long days already allowing us to see and do lots.  A well fitting wetsuit, a hood, booties and gloves should be in your baggage though - it's always better to be overequiped.
In regards wind you'll be well of if you pack a quiver of kites ranging from 6 (prferably 4, but..) to 10sq m in sizes.
When, how and how much? Booking details
The journey runs from the 3rd to the 10st of April, 3rd and 10th being arrival and departure days.
The cost for the six days clinic is 980,- Euro. During which you're getting a full coaching including theory lessons, coaching at the beach and in the water plus a daily videocoaching.

The journey to the island is being booked individually. Nevertheless we are happy to help you with that. It is faily easy and inexpensive to travel to Ireland. The flight takes around 1.5 hours and Ryanair and Aerlingus fly from several airports for around 100,- Euro. Surf luggage is between 35,- and 50,- one way, depending on the carrier.
Rental cars (which will be needed as we are road tripping) are relatively cheap: You can get a small car from 70,- for a week including insurance. If you need ideas where to book just get in touch. If you, however prefer to travel with your own van to extend the trip by a few days it's not very expensive either: The ferry from Cherbourg in France to Rosslare in Ireland is around 95,- Euro one way.
The general cost of living is slightly higher than for example in Germany.
We will arrange housing for the group. Expect 35,- Euro per person sharing a room per night.
What's left to say? If you have any further questions - or if you have decided to participate in this Irish adventure and want to reserve on of the ten available slots just get in touch with me, Sanja, via E-mail. We'd be happy to have you with us!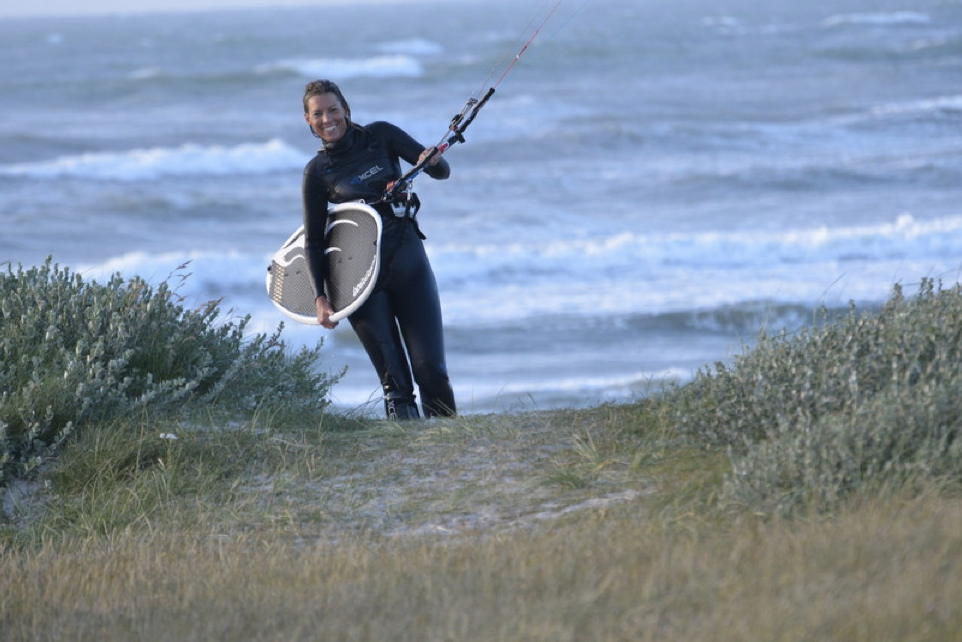 Sanja Wiegmann, Vertrieb Ozone Kites Deutschland,  tritt bei der Reise weder als Vermittler noch als Veranstalter auf, sondern bildet das Reiseangebot des Kooperationspartners Marc Ramseiers ab, der die Abwicklung der gebuchten Reisen übernimmt.