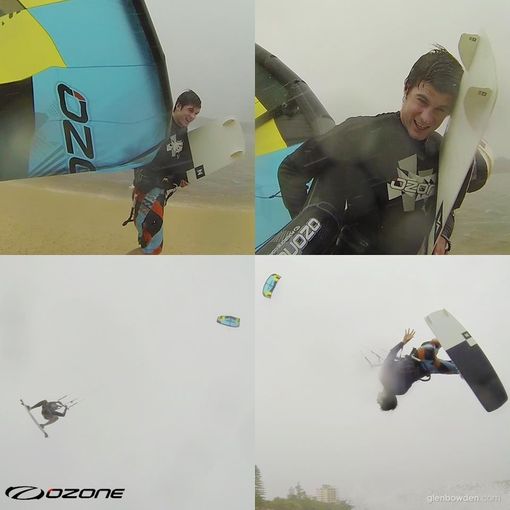 Big news in der Family: Andy Yates fährt ab 2013 für Ozone. Der Freestyle Champion der Saison 2010 hat sich für die kommende Saison einiges vorgenommen. Als erstes battelte er mit seinen neuen C4 in seiner Heimat, der Sunshine Coast Australiens, mit den durch einen Tornado hervorgerufenen extremen Bedingungen. Ein Video davon folgt in Kürze. Aber erstmal: Welcome to the Team, Andy Yates!
Andy und der Sturm:
"From January 20 to 30, one of the most devastating storms of the decade ravaged the North East coast of Australia, particularly South East Queensland. The remnants of Cyclone Oswald slowly made its way down the coast, inflicting damage to everything in its path and inundating homes with record breaking floodwaters and huge seas.
After signing with Ozone and getting his hands on some of their gear, Andy Yates was there and ready to meet the storm head on.
Day 1 had arguably the most wind to hit the coast in over a decade. Police and SES workers were also on scene investigating a potential missing person report after an individual was seen being sucked out by the raging tide. This turned out to be a false alarm after the individual reportedly managed to swim to safety without informing authorities.
Day 2 had significantly less wind than day 1, but with huge and chaotic seas over 6m and only a 6 second period."